Hi guys!
I'm Madison. I consider myself to be southern-raised with a New York soul. I have a passion for sustainable style and finding a balance between ethics and style. Through my blog Madison on Madison I am sharing my journey from a fast-fashion loving style blogger to an aware, sustainable-style blogger, I am super excited today to write for Chai & Lipstick and share with you some of my makeup tricks 🙂 Keep reading to check out my makeup video, summer makeup tips and summer fav products list.
Summer is officially here and I don't know about y'all, but I am NOT a fan of wearing a ton of makeup when it's 500 degrees outside. I absolutely love the Kat Von D tattoo foundation but it is just SO heavy. I also don't want to go spend a lot of money on products I'll only be using for 2-3 months, so I've decided to search for my favorite drugstore/Target makeup products that will keep me looking dewy and beachy all summer long without looking like my face is melting off. 
*Tips for summer makeup applications
ALWAYS apply sunscreen! This is not just a rule for the summer season, do it all year round to keep your skin looking young and healthy!
I prefer using my fingers to apply concealers and foundations because they tend to go on a little bit lighter than when you use a brush or beauty blender.
Spritz some rose water on your face before and after makeup application
Don't overdo it on the blush and bronzer- odds are you are already naturally a bit tanner, so just be sure you don't go overboard (This coming from someone that LOVES blush).
I searched shelves of Target and Duane Reade looking for the best and most cost-efficient products, and this is what I found!
L'Oreal Infallible Pro-Glow
They also have a Pro-Matte foundation that has topped inexpensive makeup lists for quite some time now, but I think this Pro-Glow is great because I prefer a less matte look in the summer.
NYX Eyebrow Pencil in Taupe
I recently purchased the Anastasia version of this and actually found that NYX makes a very good product too, for about $20 less. The taupe color is great with my hair color, and the color really glides on.
L'Oreal Voluminous Mascara
This is almost my favorite mascara in the entire world! The only others that even compare are Chanel and Make Up Forever. I literally…. I can't say enough about this mascara! For the price, there is just no better deal that yield these results.
It Cosmetics Blush/Bronzer Palette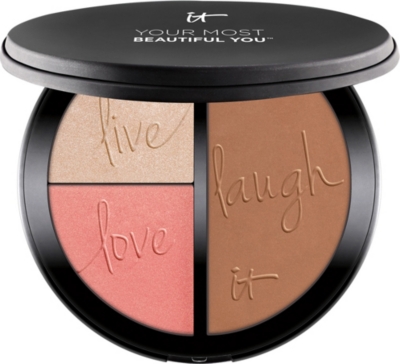 Okay, Okay I know this isn't a drug store brand but it's SO good! I love anything It Cosmetics. The blush/highlight combo is a great color. It goes on smoothly, it's not too strong. The bronzer is great for a light contour or just to add some color!
NYX Liquid Suede Lip Color
This was a little bit adventurous for me. I am not a big lip color person, but I wanted a vibrant color that would go on thick and stand out. I can say, this definitely nailed it! I think this color paired with tanned dewy skin is just stunning.
NYX Away We Glow
I am a big fan of the $3 ELF highlighter, but I've been wanting a liquid highlighter recently (again to get that nice dewy appearance). I hadn't really heard anything about this highlighter before but I actually really like it! It's very bright, but once it's blended it picks up the light really well as you can see from the video!
I highlighted a few of my favorite products in this video to show you what it looks like after application! I am also wearing the Pro-Glow foundation and the NYX Eyebrow pencil!
Hope this will help you in choosing light wear makeup this season, I absolutely enjoyed sharing it with you, do let me know in the comments below if you have tried any of the above products and what are your favorites for summer and don't forget to follow my journey on madisononmadison.com!
Until Next Time,
Madison