Hello lovely people,
We recently crossed our two-year mark blogging, it's been an amazing time for us, personally and professionally we learned and grew in many ways…and it's many thanks to our blog and you lovely people who support us.
Chai & Lipstick is a blog run by 4 sisters, it's not always been easy to coordinate and manage the blog as we all live in different cities – Goa, Chennai (India), Paris, London. (Read more about ushere and here.) We have found ways to communicate and bond and to work together without letting the distance come in our way! We moved slowly but steadily and that's how we crossed the two-year mark. To celebrate our anniversary and soon to reach -10k on Instagram, we are having not one but 2 worldwide giveaways!
Giveaway 1
MARC JACOBS
We are giving away our favorite perfumes to celebrate our blogging journey!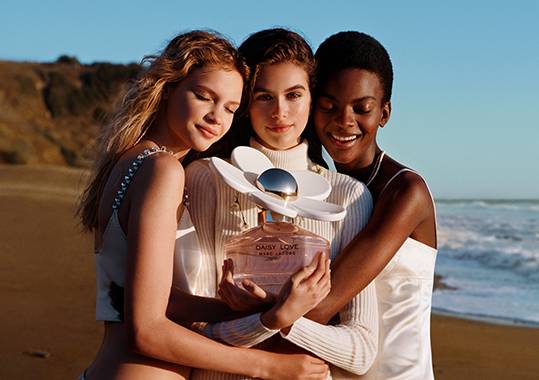 What you will win?
4 Marc Jacobs Travel size perfumes – to represent the blogging journey of us, four sisters, we are giving away four amazing perfumes.
Three simple rules to enter
Follow us on

INSTAGRAM

.
Repost this photo on yr Instagram and put the hashtag #chaiandlipstick2yeargiveaway
Winners to be announced on the 28th of June.
Giveaway 2
                                                                        HERBOWSKI 🌿
We are super excited – Herbowski is doing an amazing giveaway to celebrate this moment with us!
Herbowski is a London based company that develops an elaborate range of infused oils. Infused, or macerated oils are carrier oils that have been used as a solvent to extract medicinal, therapeutic and aromatic properties, impart rich colors and beautiful fragrances of herbs, plants, and flowers. A process of double or triple maceration is applied by Herbowski to extract more beneficial properties into the base oil, a process extraction by molecular diffusion that can take months.
Herbowski oils are handcrafted in-house using only certified organic & wildcrafted ingredients.
Herb Infused Oils are valued to support healthy skin and hair and are very efficient in curing acne, bruises, eczema, growing pains, muscle pain, nerve pain, neck tension, scaly and cracked skin, scars, sciatica, scrapes, shingles, sprains, stretch marks, tension headaches, wound healings, dandruff and yes there's more!
These are gentle enough for everyday use, free from safety concerns found with essential oils.
You can use herbal oils in pure form, as a powerful aromatherapy base, in massage & body oil blends, add to shampoos and conditioners, and in your DIP beauty recipes.
Herbowski is an eco-friendly brand that uses aluminum bottles for packaging as it is the most recycled material in the world. They use mailers made from kraft paper with recycled paper padding.
You can find 9 oils in their current collection Organic Calendula, Organic Lavender, Organic Horsetail, Organic Nettle Leaf, Organic Arnica, Organic St John's Wort, Organic Cayenne Pepper, Organic Marshmallow Root and Wildcrafted Linden Blossom Oils.
Click HERE to visit their website.
What you will win?
One lucky winner will 3 amazing Herb-infused oils from HERBOWSKI!
Organic Calendula Oil – 60ml
Organic Calendula Oil is an extremely soothing and nourishing product with a vibrant tangerine colour and a subtle aroma. Your skin will receive a good bulk of the benefits, thanks to the oil's anti-inflammatory, antibacterial and related properties:
+ Skin dryness or chapping – Calendula Oil is a great moisturiser for dry skin and for severely chapped or split skin, it helps soothe the area and reduce the pain.
+ Inflammation – It works well on sprained muscles or bruises; its anti-inflammatory action helps lessen swelling from injury. Calendula Oil also helps treat varicose veins, leg ulcers and chilblains.
+ Baby care – Calendula Oil helps to relieve diaper rashes, which can extremely irritate an infant.
+ Minor cuts and wounds – The antiseptic and antimicrobial action of this herbal oil help speed up healing of wounds and minor cuts, and also help relieve insect bites, acne and bed sores.
+ Skin issues – Eczema, psoriasis, dermatitis and other skin problems can be soothed using Calendula Oil. 
2. Organic Lavender Oil – 60ml
Organic Lavender Oil aroma is one of a kind and cannot be mistaken for 

anything else. The most versatile oil of all has a beautiful rich green 

color. Health benefits for the skin can be attributed to its antiseptic, 

anti-fungal, calming and relaxing properties.
+ Skin Care – Lavender Oil treats acne, wrinkles, soothes psoriasis and other 

inflammatory conditions. It is commonly used to speed up the healing 

process of wounds, cuts, burns, and sunburns as it improves the 

formation of scar tissues.
+ Boosts blood circulation.
+ Bug Repellent; effective on lice, lice eggs, and nits.
+ Calming and relaxing aroma can help to get a good night sleep.
3. Organic Horsetail Oil – 60ml
Organic Horsetail Oil has been extracted from a Horsetail Plant – a unique and rare plant that absorbs from earth silica, other valuable minerals, and nutrients. This Horsetail Oil has antioxidant and anti-inflammatory properties that are powerful agents for skin care.
+ Skin Care – Horsetail Oil helps to heal cuts and wounds, treats rashes and hemorrhoids. Using Horsetail Oil can reduce the redness of boils and acne, soothe eczema and psoriasis, treat burns and prevent premature aging.
+ Hair Care – Horsetail Oil helps to reduce hair loss, strengthens hair follicles, treats frizzy or dry hair, helps to make the hair silky and soft, fights dandruff and prevents split ends, promotes new hair growth, treats itchy scalp.
+ This herbal oil strengthens and promotes nail growth.
Four simple rules to enter
Follow us on

INSTAGRAM

Follow Herbowski on

INSTAGRAM

Tag 3 friends on this

post

.
Repost this photo on your Instagram with hashtag #chaiandlipstickxherbowski
Winners to be announced on the 1st of June!
I wish you all a very good luck friends, thank you again for all your love and support! Have a great week ahead!
Team Chai & Lipstick